DIAPHRAGM TYPES


FABRIC REINFORCED

The diaphragm utilizes a layer of fabric during the molding process. This offers a wide range of design flexibility. The fabric allows the diaphragm to withstand higher pressures while also remaining very flexible in the process. All elastomers can be constructed as a fabric reinforced diaphragm.

DIAPHRAGM TYPES


DOUBLE COATED

Some diaphragm applications require that the rolling diaphragm be coated with rubber on both sides. This type of diaphragm is typically required when the application sees pressure on both sides of the diaphragm.

DIAPHRAGM TYPES


ALL RUBBER

All rubber (homogeneous) diaphragms can be used in very low pressure applications. The same functionality of a fabric reinforced diaphragm applies to the all rubber diaphragms (just without the fabric).

DIAPHRAGM TYPES


METAL AND PLASTIC BONDING

Bellofram has the ability to bond metal or plastic inserts to the diaphragm. During the molding process, the insert becomes totally or partial encapsulated by the elastomer, creating a strong bond between the two. This bonding process eliminates costly assembly operations.

DIAPHRAGM TYPES


MOLDED DIE-CUT

Any shape and any size, our flat/die-cut diaphragms can be all rubber, fabric reinforced, or double-coat. Various trim patterns are also optional.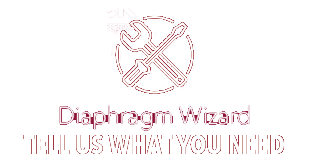 To make an analysis of your specific application, please answer a few questions. Our engineers will respond within 24 hours.